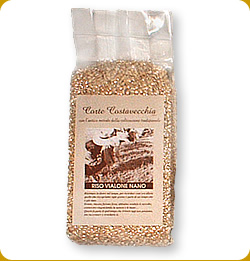 Excellent for rich and tasty risotti for its estate of cooking and the ability to absorb the seasonings.

It happened only in the XIX century that people started to distinguish the different varieties of this rice. In 1937 there was the creation of a new variety gotten for intersection and following selection of the Vialone with the Nano. The new variety, classified in the semifinis, was denominated Vialone Nano. Of the varieties of rice cultivated today in Italy, the Vialone Nano is the most ancient among those constituted for hybridization.
For the ability to absorb the seasonings and the estate of cooking, the Vialone NanoMantovano is particularly suitable for the risotti, among which the most known is the "risotto alla pilota."